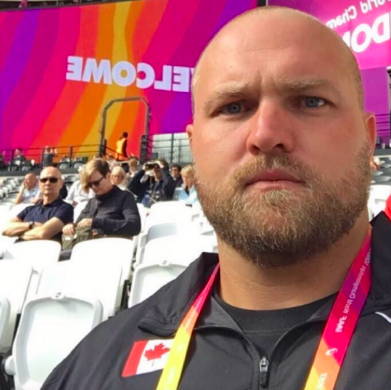 Two Olympians, six Olympic trial qualifiers, 25 national champions, 17 state champions, and 21 NCAA all-Americans, all covering 7 sports. The numbers don't lie, and the numbers don't stop. As the owner and master coach behind Garage Strength, Dane Miller is one of the United States' most well-known and recognizable names in weightlifting, track and field, and coaching expertise. In addition to the undeniable heights his athletes have reached, Dane is the recipient of the USA Weightlifting (USAW) Larry Barnholth Award for Coaching Excellence, has been appointed to assist at USAW training camps at the Olympic Training Center in Colorado Springs, CO, and was named team leader and team coach to 6 Team USA squads. He has had the honor of training under and with athletic luminaries including Anatoly Bondarchuk, Zygmunt Smalcerz, and Charles Poliquin.

Dane's own success is grounded in the same value + focus + work methodology he employs with his athletes. From humble beginnings in his parent's garage, Garage Strength is now Pennsylvania's premiere training center for elite athletes and healthy humans alike, filling not only strength and sport-specific training needs but also mobility, lifestyle, and nutrition. Dane's unique, intensive training programs are the heart of Garage Strength, and are based not only on tested and proven methods of optimal athletic development but each athlete's specific skill and need.
Dane's own athletic career began at age 11, when he told his father he was going to get strong to be a state championship athlete. He became an All-State defensive lineman, and two-time Berks County, PA lineman of the year. He remains the best shot putter in Berks County, PA, setting a shot put record previously broken before man walked on the moon, and achieved his goal of a PA State Championship in shot put. He finished in PA's high school top four in both shot put and discus before throwing for Penn State University, where he was a five-time Big 10 place winner, track and field team captain, and four-time Academic All-Big 10 scholar athlete. He was also an NCAA championship qualifier and four-time regional qualifier. He is a two-time USA Indoor Track and Field national qualifier.​
His greatest achievement in life is the goal he never realized he set: raising a family with his wife and Garage Strength co-owner, Caitlin Browne. His two sons, Lincoln and Sanderson, will be joined by twins in late 2018, and the family owns and operates Hickory Hill Farm in Ontelaunee Township, PA. He is also co-owner of Earth Fed Muscle, a natural, clean supplements line used by some of the world's top-ranked athletes.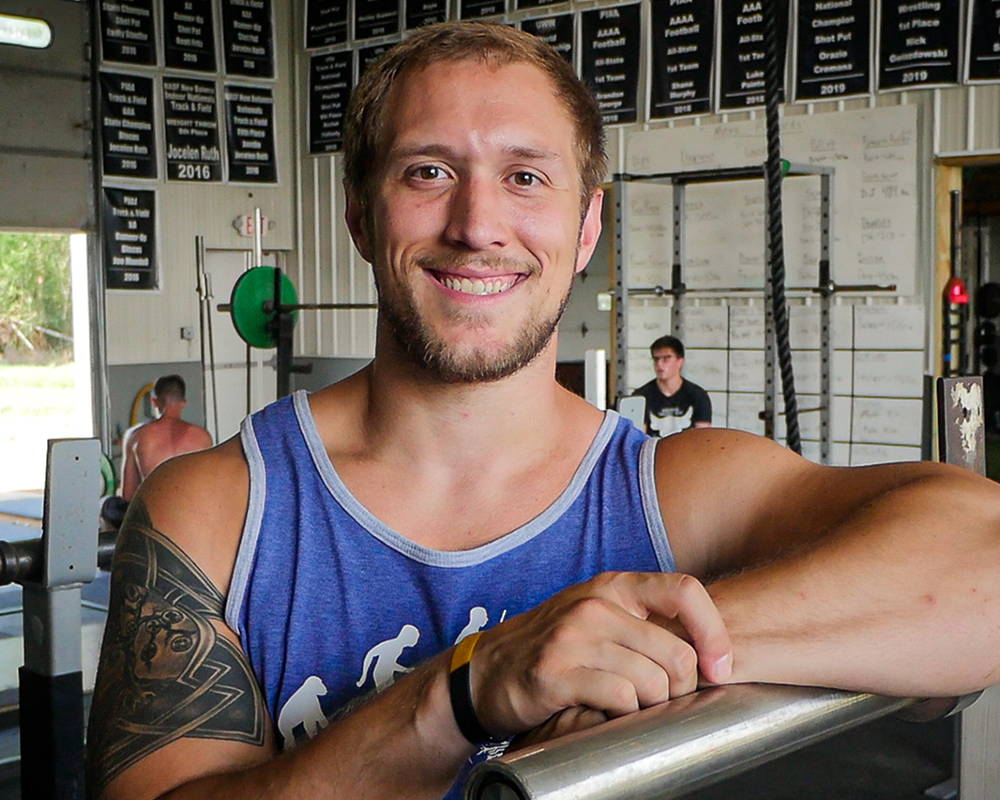 DJ started training at Garage Strength in 2009. At that time, he was a junior in high school and played football, basketball, and volleyball. Before starting training at Garage Strength, he had never lifted a day in his life up to that point and knew he needed to change that in order to play collegiate football. He had a successful senior season in all of his sports and was recruited to play football at Wilkes University.
At Wilkes, Dj played football all 4 years and was team captain for 2 of those years. He played outside linebacker and had a successful career. Another (more casual) athletic collegiate achievement is that he won the intramural volleyball championship 4 years in a row. During his 4 years at Wilkes, he would come home for 3 months during the summer and train at Garage Strength. In 2012 he started to train people part-time during the summer as well. Then once he graduated in 2014, DJ came back home and worked at Garage Strength full-time as a personal trainer.When he was done with football and came back home to work at Garage Strength, Dane told him, "You can do bodybuilding, but would probably have to go on steroids to be good there, or you can do Olympic weightlifting and be good without steroids." So he chose to become an Olympic weightlifter.
When DJ competed at his first weightlifting meet he missed all of his snatches at 105k and clean and jerked 152k. Fast forward to 2017 when he snatched 153k and clean and jerked 200k in competition. 2016 is the year when he truly started his coaching career in Olympic weightlifting. He was the head coach for team Garage Strength at youth nationals and brought back a youth national champion. Also within that year he helped coach a junior national champion, a junior national runner up, 3 under 25 champions (including myself), a senior national champion, and a senior national runner up. Since he truly started coaching in 2016, DJ has helped coach a youth national runner up, 6 youth national champions, 5 junior national runner ups, 3 junior national champions, 4 university/under 25 national champions, 1 American open champion, a senior national runner up, and 2 senior national champions.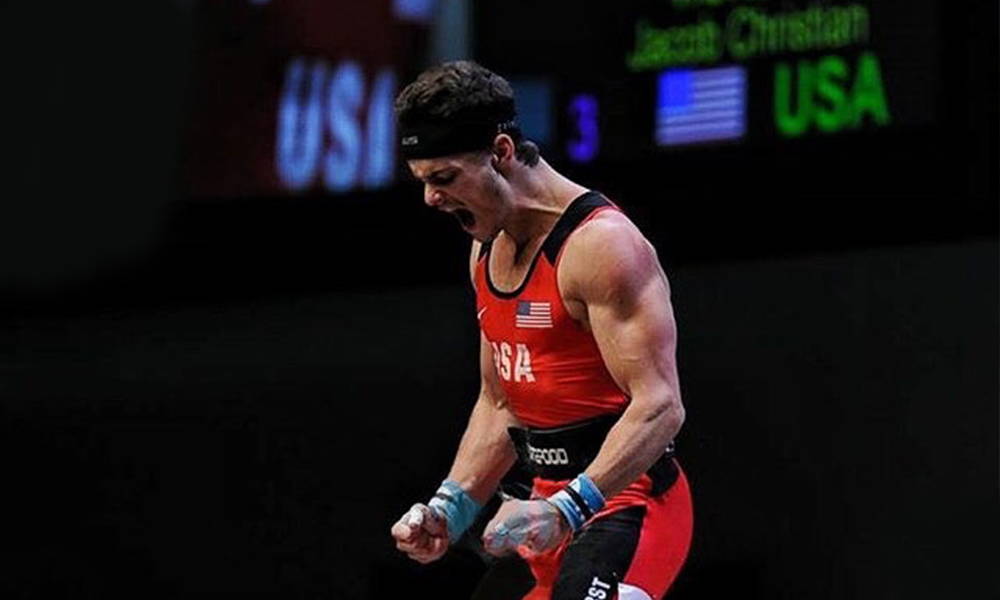 Jake is a personal trainer at Garage Strength with special knowledge in the Olympic lifts. Jake boasts National Championship status in the youth, junior, and senior divisions of USA weightlifting. He has competed internationally as a member of the Junior Pan American, and Junior World teams in 2017. ​
Jacob will often greet you at the front desk. He works several hours per week making sure Garage Strength is running smoothly and client questions are answered.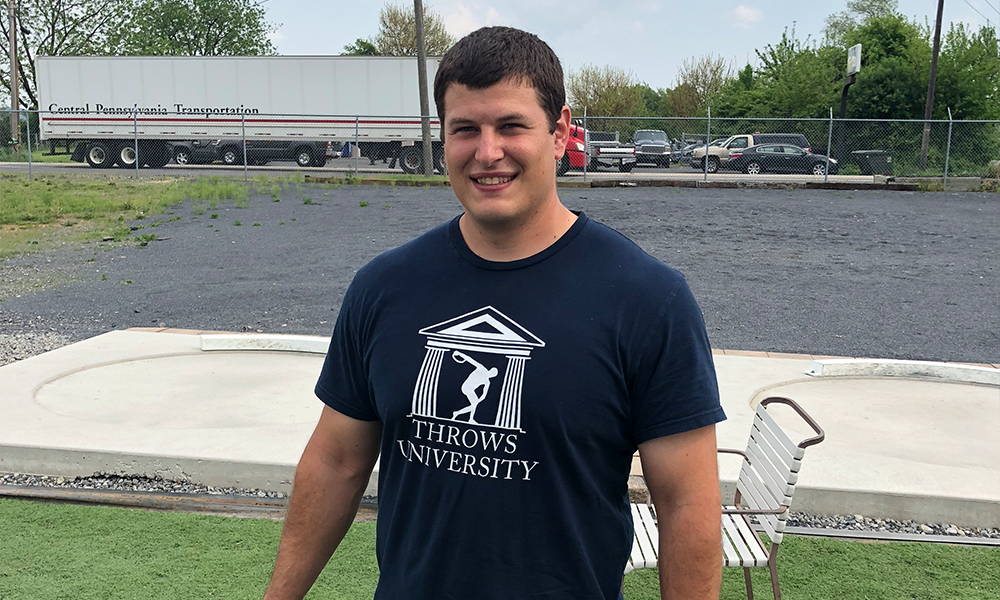 Trevor manages and coaches the High School throwing group at Garage Strength. Out of the high school group he has already developed more than a dozen state medalists, a state champion, and 2 New Balance Nationals runner up finishes. Along with the theme of Garage Strength athletes as a whole, he prides himself in taking normal athletes and making them into champions. He has had many athletes add 10+ feet to their shot put and 30+ feet onto their discus throws in one year.
Prior to coaching at Garage Strength, Trevor has seen success as a Division 1 and Division 2 throws coach, producing All-Americans at both levels. During his two year stint as the head throws coach at the University of Toledo, he produced 3 school records along with developing the 3 best discus throwers in school history. His best discus thrower was the first thrower from Toledo to ever make the NCAA Championships.
He has most recently coached at Kutztown University where he guided a sophomore discus thrower to a school record, PSAC conference record, and a 3rd place finish at the NCAA Division 2 championships. In his first year he produced three conference champions and qualified the most throwers for the national championships in school history.
As an athlete, Trevor was a 3-time All-American in the shot put. He graduated from Messiah College where he still holds the school records in the shot and disc as well as the MAC conference record in the shot put. Trevor has a bachelor's degree in Nutrition and Dietetics and has also completed a year of graduate studies in Exercise Physiology.