The Garage Strength Gym Tour
It isn't hyperbole. Garage Strength is the most explosive gym in the world, YouTube included.
The inspiration for Garage Strength all started in my parent's garage. My dad was able in 1998 to get some scrap weights from a high school to bring home. I had a jailhouse incline bench, ratty old bars, and a single-leg squat rack we still use today. My dad told me he would set up a gym if I trained 4 to 5 days a week. That is where all the inspiration started. My parents' garage is where Garage Strength started in 2008. We stayed in that garage until 2011. My parents' garage is where the foundation and raw feeling that is Garage Strength began.
A lot of the sports performances I coached in the early days of Garage Strength revolved around wrestling, football, and throwing. I was fortunate enough that my dad built a shot circle in the backyard because I wanted to be a shot putter.

But we didn't stop there.
The circles we use now are where we developed 5 Olympians at the Tokyo Olympics: Alex Rose, Cici Lyons, Tim Nedow, Jason van Rooyen, and Sam Mattis. They all trained at Garage Strength to cultivate their power to dominate at the Olympics. Inside the facility, we walk in and immediately end up in the weightlifting room where we do everything around technical coordination. Everything we do in the room revolves around technical coordination work on multiple platforms and jerk boxes. We have three bar racks and a plethora of ZKC-supplied plates and bars. We have three bar racks to house the barbells.

One thing every athlete notices when they walk into the gym is that we hang banners of every champ around the walls. We put the banners up as an homage to our athletes and to motivate all our athletes for the long-term process of achieving the goals of the future.
Another thing people notice in our front room is the number of pull boxes we have in the weight room. I like to have athletes perform focused pulls from different positions for weightlifting athletes. I also like to have our field athletes, like football players, pull from 7" and 14" to emulate body positions on the field. It also takes stress off of their back while teaching them to apply a ton of force in a very short distance. Training how to move heavy weights fast makes a difference.
Our front room also has ZKC scoop boxes to do heavy squats and partials off of. We also have homemade jerk blocks that were fabricated for us. ZKC also provided us with jerk boxes that we also use. The front room also contains a Rogue bench that has had multiple 500 lbs bench presses performed on it. A nice tidbit of information is that a lot of the 500 lbs bench presses were done with a fat bar.
At Garage Strength, we are lovers of the arts. We have a sweet mural that Jake Yancy designed back at our second location, the old barn. Our old logo, a stylized rendering of Pyrros Dimas catching a snatch in the hole with roots coming out of the feet, into the ground. We didn't put a face on the individual so every person who trained could put themselves on the mural. My dog Anton, RIP, is also thrown up on the mural.
I love to experiment with equipment. Mason Woods, a Garage Strength employee, is the lead director of Garage Strength Equipment. Over the last 15 years, we have found gaps in the strength training industry. Mason is in charge of collaborating with manufacturers to get our ideas to fruition to provide quality strength equipment worldwide.
Before every athlete trains, they head into the mobility room to train. In the mobility room, we have a sweet stash of used weightlifting shoes. We keep our straps back there. We keep belts back there. We even keep prototypes of equipment we are developing to release to the public for mobility work.
We also have our favorite piece of warm-up equipment, the PVC pipe roller, back there.
Do You Want To Be A Champion?
Walking into the sports performance side of the gym, we have a banner that says, "Do You want to be a champion?" Before the banner, we have a wall of champions. We have a poster of Pyrros Dimas hanging up, a man I coach with now regularly. Right above the banner, we have Anthony Myers jersey, #17, RIP, the champ of champions. Next to Anthony's jersey, we have Sam Mattis's jersey from the 2020 Olympics.
Entering the sports performance side, we have a reverse hyper for everyone to use for their glutes, hamstrings, and lower back. We also have various back accessory machines, but maybe most importantly, we have a Nordic hamstring pull machine, a piece of equipment we are considering releasing. The wall behind all of this equipment is where we have a mural of everyone's goals hanging on the wall.
DJ, the onsite project manager, is the first athlete I ever coached to clean and jerk 200 kilos. DJ deals with any onsite inquiries, team and coaching rates, trains elite-level athletes, and deals with the day-to-day maintenance of the gym. He is also known as the #1 sauna cleaner in the gym for getting that brush in between those crevices.
DJ says that an athlete coming through the Garage Strength doors on the first day can expect to walk in and most likely see Mason working at the desk. Mason will have the athlete sign in, fill out the media release form, the liability form, and all the documents to make it OKAY! to train. From there, the athlete will be escorted to the sports performance room. The athlete can expect a trainer to be with them throughout the entire workout, get technical feedback from the trainer, and do a workout specifically designed for the sport being trained for.
The sports performance area is loosely split up into three key areas. We love to bench press at Garage Strength. We have multiple flat benches, incline benches, and a decline bench. We have dumbbell racks as well. I think We also have multiple bars to train various grips.
We have dumbbells from 5 lbs up to 165 lbs. Our dumbbells give us a raw feel. I got most of the dumbbells when I was still in college in 2007. Penn State got a new weight room and I was able to salvage the dumbbells and racks for a steal. The dumbbells are getting banged up and old, but they still work and are key to sports performance-based training.
We are proud to admit that a lot of our equipment is second-hand. Early on we were stellar at finding stuff on eBay, Craigslist, Facebook Marketplace, and making connections with equipment dealers. It helped save a lot of money and also allowed for a lot of testing. In our practice setting, we were able to save money while running a ton of experiments to keep our money in the green.
T'mond is the head strength coach in the sports performance area. T'mond works with all the youth athletes, high-school athletes, and college athletes that come to the back room. He works with all movement patterns, technical coordination movements, absolute strength movements, and even reflexive strength movements. T'mond even does a bit of periodization for the athletes he trains.
T'mond is also an elite shot putter. T'mond stresses planning things out and having a mindset to execute those tasks ahead.
We have 8 platforms in the back. A mainstay of our training is technical coordination and weightlifting movements. All of our athletes are asked to crush technical coordination movements to increase strength, be more explosive, and have a technical mindset.
Behind the platforms, we have tons and tons of banners. We recognize our athletes' accomplishments. We have Pan-am champs, all-state recipients, NCAA all-Americans, and world championship podium placements.
Our rig, which I got off of Facebook Marketplace, is sweet. It has 4 different squat racks and monkey bars all across the top. It has places for us to hang our rings. It also helped us save a lot of money during the covid shutdown.
Under the rig hanging on the wall, we have a dry-erase board with the gym records listed. Recently the snatch record and prowler push have been broken. Every name on the board is a well-accomplished athlete.
The rig leads right into our single-leg squat rack. We have two individuals single-leg squat 500 lbs out of our single-leg rack. Lucas Warning has the single-leg squat world record by our account. In the rack, we have a single-leg roller and a balance pad to protect the knee.
Legend Boysen Hayes, Outside On The Turf
We have always been good with weightlifting, big strength movements, and being explosive. We are solid with all of that. Recently we have been zeroing in on becoming even better at speed training. Legend is leading that charge.
Legend is our speed coach. He starts with fundamentals with a top-down approach. The focus is primarily on technique. Legend trains athletes to be able to get their body's limbs into proper angles to move as fast as possible. Speed drills applied in real-time are a big thing to Legend. He also likes to use speed sleds for some velocity decrement training.
Legend is also one of the best discus throwers in the U.S. of A. One key thing Legend speaks to is laying out expectations and then following through on how to execute world-class expectations.
Ray Robinson fabricated our shot and disc rack. All of our implements are stored here. We have accumulated so many implements we have outgrown parts of the rack.
In the back room, we have our prowlers, assault bikes, and hurdles on the turf. We do a lot of plyometric work in the back room. We have more strength equipment in the back as well, along with some bodybuilding equipment. We even have a flywheel in the back room to improve the ability to react when grounding.
In the corner, we have a lot of isolation equipment. We have a leg press, a leg extension and leg curl machine, and a seated row and lat pulldown machine. All of that leads into the Garage Strength Equipment room. We use every square foot of the building to optimize our money-making, but even more importantly, turning all our athletes into total freaks.
The way in the back, we converted an office into a sauna and showers. We have two personal showers and a cold plunge. The cold plunge bucket with the sauna is great for contrast recovery. The heat lamp in the showers is pretty sick. We also have a scale back there. And this is a bit odd to some, but we have a washer and dryer in the recovery room as well.
Everyone has seen the stairs used for plyometric work. We love stair jumps for plyometric work because it decreases the load when grounded, putting the focus on the concentric work.
The gold is up the steps though. The upstairs office is at the top of the steps where a lot of the crazy behind the scene work gets done.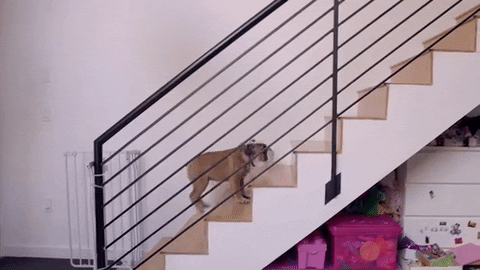 In the office is my wife Caitlyn, our monster SEO and email marketer, and Jake Horst, our social media expert. Jake also has a top 5 snatch in the entire world.
Caitlyn runs all of the SEO, does email marketing, and runs our HR for the business. She does a ton of research before we put content out to make sure we rank. She is writing emails on almost every piece of content we put out. She also manages four kids.
Jake, besides having a double bodyweight snatch, runs all things social media at Garage Strength. Jake is in charge of our Instagram, Twitter, TikTok, and Facebook. Anytime there are comments or interactions on social media it is Jake at the helm. Jake uses a lot of what he does at work, namely being organized, being on time, and putting out solid content parallel to what goes into being an elite weightlifter.
My office is sort of a disaster. I have a bunch of books on the shelves, and a big schedule of our plans for next year and beyond. I also have our YouTube 100K subscriber plaque and other mementos hanging on the wall behind my desk. The mementos serve to remind me of what we are working towards and that we will get a 1 million subscriber plaque.
Trevor is the glue behind the scenes of Garage Strength. Trevor keeps us all sane and simply put, makes things happen. The most exciting thing Trevor is doing right now is working on a strength training app, called Peak Strength, which is about to be released. The app has been developing behind the scenes for the last year and a half, but much longer because it is an accumulation of all the training we have done onsite and remotely over the decade-plus of training athletes. The goal is for the app to use its AI capabilities to put out really good programs for people.
Trevor also spends a lot of time cutting out pictures of me to create thumbnails.
The person behind the camera, who is also the video editor, is Jason Coons. Jason also manages the YouTube channel, films the videos, edits videos, contributes to the scripts, and helps us to continue to stay on schedule. He also handles brand deals.
Jason is also the self-proclaimed strongest video editor.
Hopefully one day everyone reading this blog can come to our physical location and train on-site. In the meantime, cultivate your power!

Welcome to the Garage Strength Blog, where it is my goal to provide you with the experience and knowledge I've gained in the strength and conditioning world over many years of learning from both successes and failures. I train elite-level athletes in a multitude of sports from the high school to professional levels, already producing 5 Olympics and 30+ National Champions. If you want to be the next champion I train, check out my strength programs below!

Join for free educational videos EVERY WEEK on strength coaching and athletic performance